16jul14:0016:00A Middle East Bet on China? Strategic Partnerships and Regional Rivalries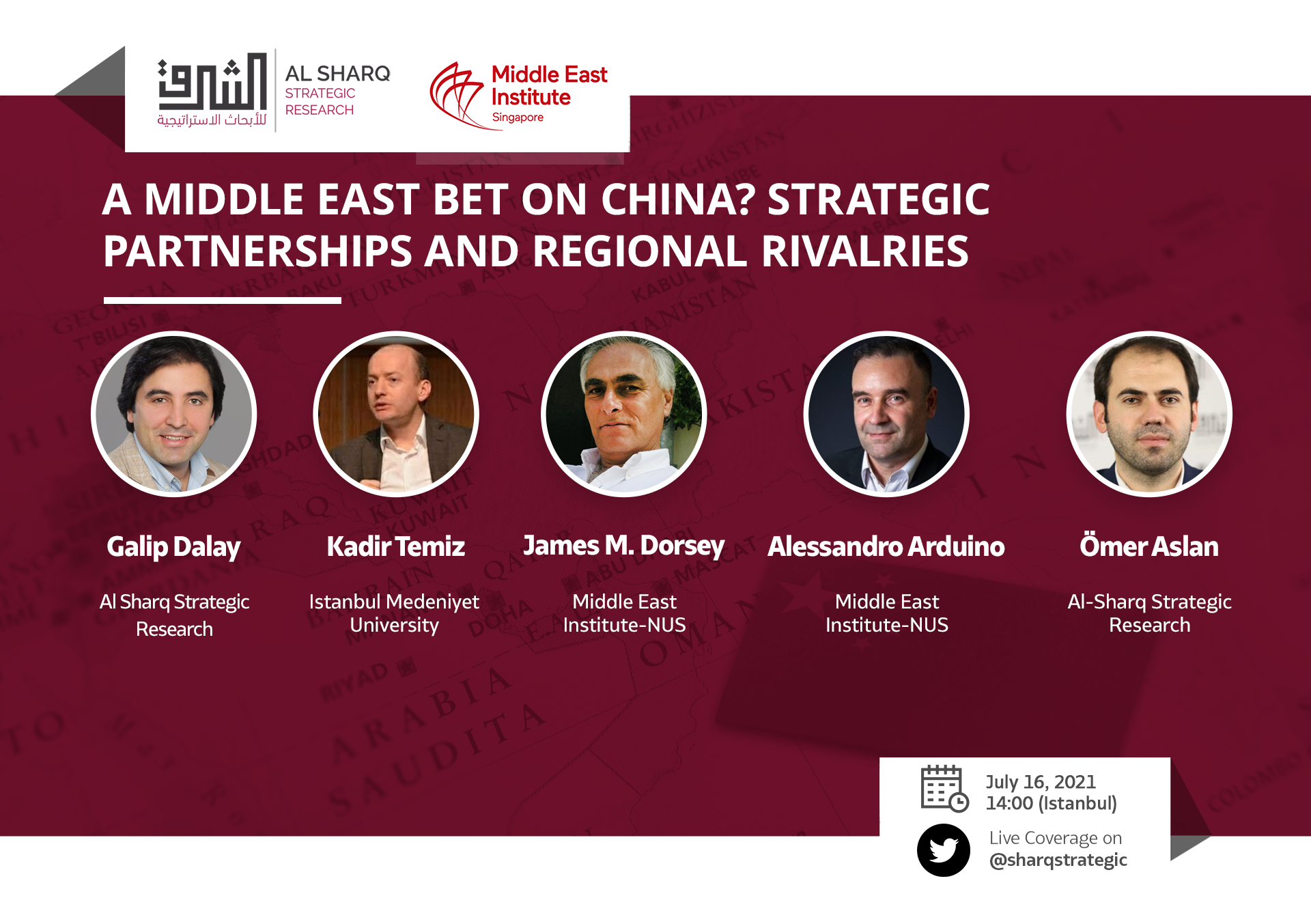 Event Description

Chinese Foreign Minister Wang Yi unveiled a five-point plan to secure and stabilize the Middle East during a six-nation tour of the region. Celebrating the 50th anniversary of China-Turkey relations, Yi held out the prospect of elevating ties between the two countries to a comprehensive strategic partnership. China already has strategic partnerships with several states in the region, including Iran, Saudi Arabia, the UAE, Qatar, and Egypt. This webinar will explore China's vision of a future role in the Middle East. It will seek to unpack what China's strategic partnerships entail, how it hopes to manage relations with regional partners that are at loggerheads, and to what degree Middle Eastern willingness to accommodate China is rooted in exaggerated expectations of Chinese support. Will China transform from being an economic actor and trade partner to a security partner for the region? What kind of role regional partners want China to play in the region? Are they hedging their bets in case the United States withdraws from the region or is it that China offers a new model to follow? Co-organized by Al Sharq Strategic Research and Middle East Institute at the National University of Singapore, this panel will explore these questions and more.
Time

(Friday) 14:00 - 16:00
Speakers for this event
Galip Dalay

Galip Dalay

Senior Associate Fellow at Al Sharq Strategic Research

Research director at Al Sharq Forum and senior associate fellow on Turkey and Kurdish Affairs at Al Jazeera Center for Studies. He previously worked as a visiting fellow at the German Institute for International and Security Affairs (SWP) in Berlin and as a political researcher at SETA Foundation in Ankara. He is a regular contributor to German Marshall Fund of the United States' on Turkey policy brief series, and a columnist for Middle East Eye.

Senior Associate Fellow at Al Sharq Stra...

Kadir Temiz

Kadir Temiz

Assistant professor of Political Science at Istanbul Medeniyet University

Kadir Temiz graduated from Beykent University, department of International Relations in 2006. He holds an MA from Istanbul Technical University, department of humanities and social sciences Political Science Studies with a thesis titled "Confucianism and Alternative Theory of Rights" in 2010. He has also got doctor of philosophy degree from Boğaziçi University, Atatürk Institute for the Modern Turkish History with a dissertation titled "The Rise of China and the Middle East: Chinese Foreign Policy Towards Iran, Israel and Turkey, 2001- 2011." In 2017. Temiz has studied at Peking University Institute of International Studies and Foreign Language School in the years between 2007 and 2010. He also studied at Shanghai International Studies University, the department of International Relations and Middle East Studies Centre. He also worked at İstanbul Şehir University, department of international relations in the years between 2018 and 2020. Temiz is also affiliated with Boğaziçi University's Asian Studies Centre. He still continues to study on History of Modern China, Chinese Foreign Policy and International Relations, Politics of East Asia and China's relations with Middle Eastern countries. He teaches Politics of East Asia, China in World Politics, Chinese Foreign Policy and Current Issues in Chinese Foreign Policy courses at İstanbul Medeniyet University, department of International Relations.

Assistant professor of Political Science...

James M. Dorsey

James M. Dorsey

Senior research fellow at the Middle East Institute-NUS

James M Dorsey is a senior research fellow focused on the Middle East and North Africa who publishes widely in peer-reviewed journals as well as non-academic publications. A veteran award-winning foreign correspondent for four decades in the Middle East, Africa, Latin America, Europe and the United States writing for publications such as The Wall Street Journal, The New York Times and the Financial Times, James has met a multitude of the region's leaders. As a journalist, James covered primarily ethnic and religious conflicts, including some of recent history's most dramatic events such as the 1973 Middle East war; the Lebanese civil war; the 1979 Soviet invasion of Afghanistan and the US-backed insurgency that ultimately led to the withdrawal of Soviet troops; the Palestinian intifadas; the Iranian revolution; the US embassy hostage crisis and the Iran-Iraq war; the Iraqi invasion of Kuwait and the toppling of Saddam Hussein; the Israeli-Palestinian peace process; the wars in Croatia, Bosnia, Kosovo and Serbia; the armed struggles in the Western Sahara, Algeria, the Philippines, Kashmir, Eritrea, Tigre, the Ogaden, Chad, Niger, Chechnya, the Caucasus and Georgia; the Columbian drug cartels; the fall of Noriega in Panama; the wars in Nicaragua and El Salvador; the Kurdish insurgency in south-eastern Turkey, post-revolution Iran and Saddam's Iraq; and the war on terror. James writes a widely acclaimed blog, The Turbulent World of Middle East Soccer, has published a book with the same title and authors a syndicated column.

Senior research fellow at the Middle Eas...

Alessandro Arduino

Alessandro Arduino

Principal research fellow at the Middle East Institute-NUS

Dr Alessandro Arduino is the principal research fellow at the Middle East Institute (MEI), National University of Singapore. He is the co-director of the Security & Crisis Management International Centre at the Shanghai Academy of Social Science (SASS) and an associate at Lau China Institute, King's College London. His two decades of experience in China encompasses security analysis and crisis management. His main research interests include China, Central Asia and Middle East and North Africa relations, sovereign wealth funds, private military/security companies, and China's security and foreign policy. Alessandro is the author of several books and he has published papers and commentaries in various journals in Italian, English and Chinese. His most recent book is China's Private Army: Protecting the New Silk Road (Palgrave, 2018). He has been appointed Knight of Order of the Star of Italy by the president of the Italian Republic.

Principal research fellow at the Middle ...

Omer Aslan

Omer Aslan

Associate Fellow at Al Sharq Strategic Research

Omer Aslan is an Associate Fellow at Al Sharq Forum, and a researcher at the Institute for Security Sciences at the Turkish National Police Academy (TNPA). He previously worked at the political research department of the Ankara-based SETA Foundation for Political, Economic and Social Research. He received his B.A. degree in political science from Bilkent University. After finishing MSc in International Relations at the London School of Economics and Political Science, he entered the Ph.D. program in political science at Bilkent University in 2010. Ömer is now a Ph.D. candidate at the same university, currently working on his dissertation in the field of civil-military relations. Among his publications are "A Turkish Muslim Between Islamism and Turkish Nationalism: Seyyid Ahmet Arvasi (1932–88)", and "'Unarmed' we Intervene, Unnoticed we Remain: The Deviant Case of 'February 28th Coup' in Turkey ". Research Interests: Military and Politics in the Muslim World, External Actors and Military Coup d'états, Police and Politics.

Associate Fellow at Al Sharq Strategic R...