29oct18:3021:30Remembering Jamalby Middle East Monitor & Al Sharq Forum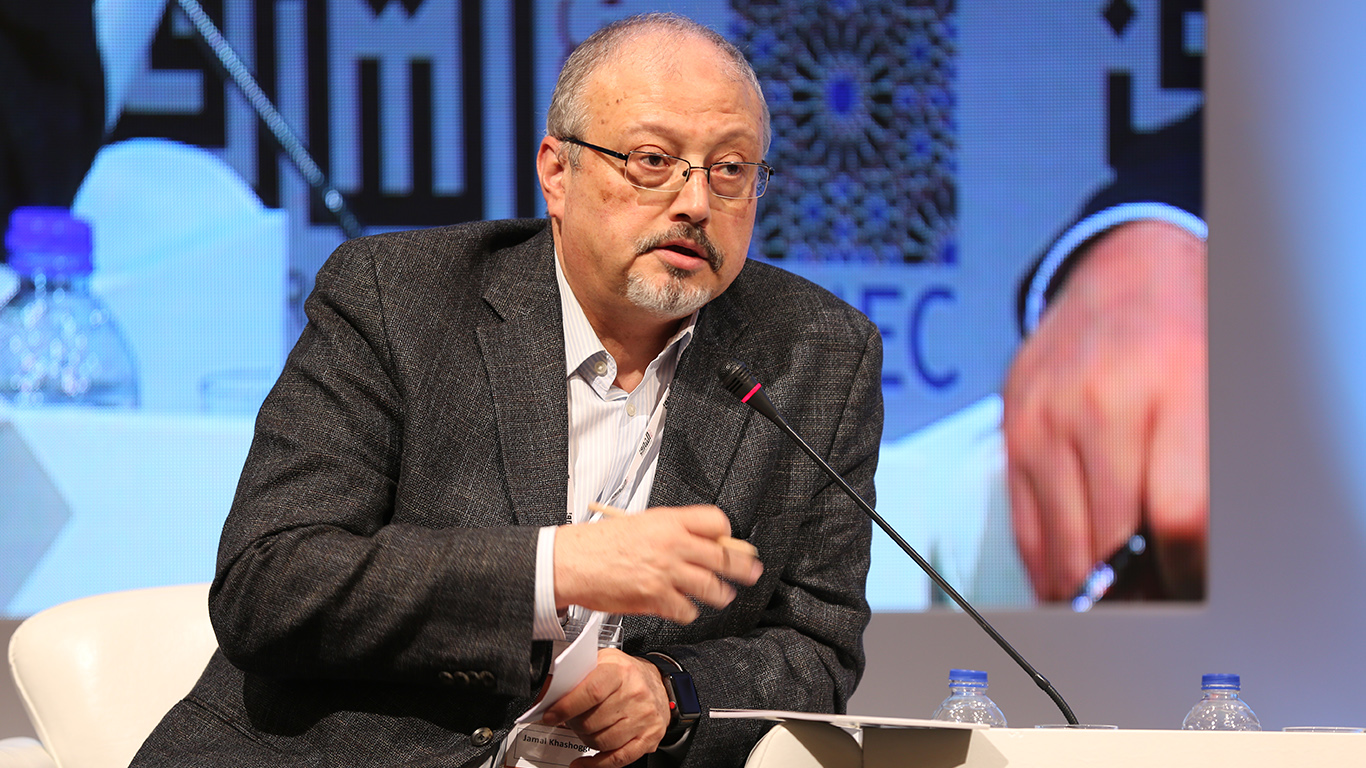 Event Description

In association with the Middle East Monitor, Al Sharq Forum is organizing this international memorial in honour of Jamal Khashoggi.

Jamal, a leading journalist and columnist on MENA, and an outspoken critic of the Saudi Arabian regime, was killed on October 2nd at the consulate of Saudi Arabia in Istanbul, Turkey.

Join us for an evening of remembrance for the life, work and thoughts of Jamal Khashoggi.
Time

(Monday) 18:30 - 21:30
Location

One Birdcage Walk, 1 Birdcage Walk

SW1H 9JJ
Schedule
29 October 2018

18:30 Who was Jamal Khashoggi?18:30 - 21:30Who was Jamal Khashoggi?

Jamal Khashoggi was one of the most experienced and accomplished journalists of his generation. His professional interest extended far beyond that of his native Saudi Arabia, from Sudan and Algeria to Afghanistan and Palestine.

On a personal level he was humble and passionate. He was affable and a pleasure to work with. Middle East Monitor is proud to have hosted Jamal Khashoggi at our event in London just one month ago.

Jamal's deep and passionate love for his country and the people of the region was exemplified through his writing. Freedom of expression, integrity in public office, good governance, accountability and transparency were all issues close to his heart. He had a desire to see the region's wealth fairly distributed and equal opportunity for all its peoples.

Jamal Khashoggi may have been silenced physically but his memory and his thoughts will have a lasting and enlightened impact on young people in the region and journalists across the world.
Speakers for this event
Wadah Khanfar

Wadah Khanfar

President of The Al Sharq Forum

Wadah Khanfar is the President of the Al Sharq Forum and former Director General of the Al Jazeera Network. He is a board member of the International Crisis Group and Global Editors Network (GEN). Khanfar has been named as one of Foreign Policy's Top 100 global thinkers of 2011 as well as one of Fast Company's 'Most Creative People in Business' of the year.

President of The Al Sharq Forum

David Hearst

David Hearst

Editor-in-Chief of the Middle East Eye

David Hearst is the Editor-in-Chief of the Middle East Eye, an independent website based in London covering the Middle East in English and French. He writes a column for the Huffington Post's "The World Post" section and appears as a commentator on the Middle East for Al Jazeera Arabic, Al Jazeera English, TRT, Alaraby TV, Russia Today, Masr Al-Aan TV. Prior to that, he was Chief Foreign Leader writer of The Guardian, Associate Foreign Editor, and Moscow Bureau Chief, European Correspondent, and Northern Ireland correspondent.

Editor-in-Chief of the Middle East Eye

Sami Zeidan

Sami Zeidan

Sami Zeidan is an award winning Senior Presenter with Al Jazeera English since 2005. He was chosen to present the channel's first live words when AJE launched on November 15th, 2006. Sami joined Al Jazeera after presenting with a number of the largest broadcasters in the world including CNN, CNBC and NBC. As a news anchor and talk show presenter Sami has interviewed a wide range of legendary world leaders, including South African President Nelson Mandela and Pakistani Prime Minister Benazir Bhutto and Venezuelan President Hugo Chavez, just to mention a few. Sami's engaging interviewing style earned him wide recognition and he has been selected to host interviews for the network's talk show Talk To Al Jazeera. As a reporter Sami has covered several seats of power including the United Nations, the White House and the European Commission, as well as conflict zones stretching from Syria to Korea.

Rt Hon Crispin Blunt MP

Rt Hon Crispin Blunt MP

Member of Parliament for Reigate, Surrey

Martin Chulov

Martin Chulov

Middle East correspondent for the Guardian

Bill Law

Bill Law

Sony award-winning journalist

Ajmal Masroor

Ajmal Masroor

British Broadcaster

Hugh Miles

Hugh Miles

Award-winning freelance journalist and editor of ArabDigest.org

Peter Oborne

Peter Oborne

Former Chief Political Columnist of the Daily Telegraph

Michelle Stanistreet

Michelle Stanistreet

Secretary General of the National Union of Journalists

Sue Turton

Sue Turton

Filmmaker and war correspondent