HTS Populism: Survival and Expansion
Abstract: Over the years, Hayaat Tahrir al-Sham (HTS), a Sunni Islamist militant group involved in the Syrian Civil War, has developed methods and tools to preserve itself and its capabilities at a time when most of its competitors have collapsed or lost the bulk of their power and influence.
The HTS is one of the most complex examples of non-state armed groups. This armed group was announced under the name Al-Nusra Front in 2012 by Al Qaeda members who previously fought in Iraq under the commandership of Abu Muhammad al-Jolani. During the Syrian conflict, HTS witnessed many organizational transformations including shifts in political positioning and ideological stance, from a discourse of global jihad to a pragmatic local organization restrained within the Syrian borders. Indeed, in 2014 Al Nusra front first announced its allegiance to Al Qaeda to preserve its independence from ISIS, and then changed in 2017 renounced it and rebranded itself as Jabhat Fatah al-Sham. HTS move was again motivated by its wish to preserve itself in attempt to convince the international community to accept it.
Populism as a strategy to gain and maintain influence was one of the main factors behind HTS's success in this. HTS implements a sophisticated model of populism and employs a unique approach in order to reconcile between its transborder and local dimensions.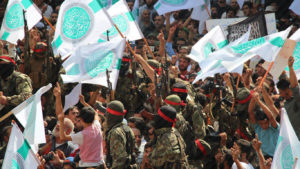 HTS today, although it does not participate in any of the negotiations tracks, seeks to present itself as a strong and cohesive organization that enjoys local support and can control the security and military scene in Northwest of Syria , including controlling the radical organizations and managing the file of foreign fighters in return for granting it international recognition and normalization of relations.
Al-Qaeda's transformation in Syria and the contradictions it fell into are usually referred to as pragmatism. This paper argues that the transformation the organization undertook, were aimed at gaining and maintaining power and making the organization the only de-facto authority in Idlib. The changes in modus operandi and discourse are a clear expression of HTS populist approach for their survival.