Russia's invisible hand in Kosovo
The global media spotlight this week was briefly redirected from Ukraine to the Balkans, more precisely – to Kosovo.
The latest flare-up in tensions was related to new rules over license plates and cross-border travel documents that were meant to take effect on August 1. Under new rules, ethnic Serbs living in northern Kosovo would have to apply for their license plates to be issued by Kosovar authorities.
This is because, fourteen years after Kosovo declared independence from Serbia, some 50,000 Serbs living in the north still use license plates and documents issued by Serbian authorities, refusing to recognize institutions under the capital, Pristina. Even though it regards them as illegal, the Kosovo government tolerated such a dual-track system in four northern Serb-populated municipalities in order to preserve the peace.
Another rule required Serbian nationals visiting Kosovo to obtain an additional entry-exit document from Kosovar authorities at the border. The measures were reciprocal, as Serbia imposes a similar rule on Kosovars seeking to cross its borders. However, last year the government in Pristina announced that such a practice would no longer be acceptable as it was seeking to unify the system.
With Belgrade's blessing, Kosovar Serbs set up barricades consisting of trucks filled with gravel and blocked roads to two border crossings with Serbia, reminiscent of barricades Serb rebels set up throughout Bosnia and Herzegovina in early 1992 to demarcate their desired territory.
Gunshots were fired in Kosovo, but there were no casualties. Even the NATO-led mission pledged that it was "prepared to intervene" if stability was jeopardized. NATO still maintains a peacekeeping presence in Kosovo, with a force of approximately 3,700 troops – a living legacy of the alliance's 78-day military intervention in 1999 against Slobodan Milosević's marauding troops.
Under strong US pressure, Kosovo's government backtracked and decided to delay the implementation of these new rules.
This is not the first-time a political situation risks morphing into a major security crisis. Similar tensions erupted last year along Kosovo's border with Serbia with Belgrade even ordering its military jets to fly low over the border with Kosovo in a show of force. Russia's ambassador to Belgrade Aleksandar Bocan-Harčenko even visited the border crossing with Serbian officials in a strong show of support.
How then can we make sense of these recent developments?
It essentially boils down to the fact that Serbia is still unwilling and unable to accept that its imagined dominions are now an independent state. Even though it has been recognized by more than 100 countries, Serbia and its key allies, Russia and China, refuse to recognize Kosovo's independence. Rather, Belgrade insists on protecting its ethnic Serb kin, who make up some 7.8% percent of Kosovo's population of 1.8 million people.
Serbia's drive to dominate the region stems from its implicit assumption of entitlement and exceptionalism. Serbia, which has never given up on its dream of creating a "Greater Serbia," continues to fret, posture, and lash out in order to assert its imagined status as a regional great power. The same thinking explains Serbia's irredentist aspirations towards Bosnia and Herzegovina and its almost weekly meddling in the country's internal affairs.
Moscow's backing is key in understanding Belgrade's blatantly arrogant and at times sabre-rattling rhetoric towards its neighbor. Russia's Ministry of Foreign Affairs Spokeswoman Maria Zakharova stated that "A decision by the "authorities" in Pristina to start applying unjustified "rules" on forced re-issuance of personal documents & license plates for local Serbs from August 1 is another step towards expulsion of the Serbs from Kosovo." Similarly, President Vladimir Putin's spokesman Dmitry Peskov announced Moscow's "absolute support" for Serbia. Russian social media was in overdrive, promising that Moscow would back "our Serb brothers."
However, unlike post-Soviet Central Asian states or the Caucasus, Russia is incapable of physically penetrating the Balkans, meaning it must rely on local players. Moscow enjoys a series of local assets, including highly placed nationalist Serb politicians, biker gangs, murky businessmen, pro-Russian media outlets, and above all the Serbian Orthodox Church. Their combined actions are enough to keep Western Balkans states, Kosovo, Bosnia, Montenegro and North Macedonia, in a permanent state of latent conflict, something that serves Russian interests.
On the other hand, the European Union's undefined 'facilitated dialogue' towards Pristina and Belgrade, led by Slovak diplomat Miroslav Lajčák, has not been very successful. Coming from a country that does not even recognize Kosovo's independence, Lajčák has overseen (if not been outright responsible for) a complete breakdown of any meaningful dialogue between Pristina and Belgrade in addition to major flareups along their borders.
Lajčák's previous tenure as the High Representative in Bosnia and Herzegovina was not very productive either. Like many EU bureaucrats who have a very shallow understanding of the granular dynamics of ethnic and political relations in the Balkans, Lajčák often diverts blame onto local politicians and seems to be more interested in career advancement than in carrying out his mandated tasks.
Serbia, for its part, has been wittingly using the 'facilitated dialogue' as an instrument to play its sitting-on-two-chairs policy and dupe Brussels into thinking that it is sincere in mending ties with its southern neighbor, while making the most out of generous EU accession funds.
Returning back to Russia – opening a new front against NATO in the Balkans seems to be Putin's strategy to steer attention away from Ukraine and towards its inner yard. For Western governments already jittery over the Kremlin's war in Ukraine, fresh Balkan violence is the last thing they need.
The trap is that the EU may once again turn to Serbia's autocratic President Aleksandar Vučić, who has on multiple occasions successfully played the role of arsonist and fireman, escalating any crisis in the Balkans at will, only to then de-escalate and negotiate what he wants from the West. Serbia's liberal historian Milivoj Bešlin, in a recent interview, told me that the Balkans is a 'reserve front' for Russia which can be activated at will, in order to divert Western attention from Russia's geopolitical designs in its 'near abroad.'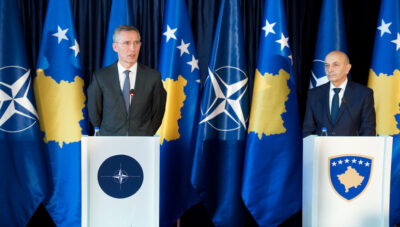 While NATO is strengthening its eastern flank and reinforcing allies in Ukraine, it must keep a close eye on the Balkans, where its soft underbelly lies. It is a highly pernicious illusion to think that the EU has the will and capacity to act in a unified manner against Belgrade and Moscow. The only potent force which can check Serbian irredentism and Russian expansionism is NATO, led by the United States.
It is an imperative that NATO beefs up its military presence in Bosnia, for which it derives its legitimacy as a peacekeeper directly from the Dayton Peace Agreement, and invest more resources in Kosovo. The Biden administration should push for fast-tracking Kosovo's and Bosnia's accession to NATO, a move that would ultimately anchor the countries firmly within the transatlantic alliance and secure long-term American political investment in the region.